Why Use a Realtor to Buy a Home?
It definitely pays to work with a realtor because of the invaluable services we provide, for example: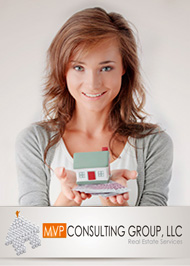 We give you up-to date information about market prices, financing, as well as terms and conditions of properties.
If you are a seller, we will market your property to other real estate agents and the public, and we will syndicate it to different search engines. We will know when, where and how to best market your property.
If you are a buyer we will walk you through the entire process — from searching for a home to ownership. We provide objective information about each property, we help you negotiate, and we make sure everything flows together smoothly.
When working with Maribel or any of our Realtors, be assured that you can expect honest and ethical treatment in all transaction related matters.
We handle the volumes of paperwork. Today's purchase agreements run 10 pages or more. That does not include the federal and state disclosures. Here at MVP Consulting Group, we prepare and explain each of them for you.
We answer questions after closing. Many questions can arise that were overlooked in the excitement of closing. We stand by, ready to assist. Worthy and honest agents don't leave you in the dust to fend for yourself.
We develop relationships for future business. We make sure that our clients are happy and satisfied.
We will periodically mail market updates to keep you informed and to stay in touch.