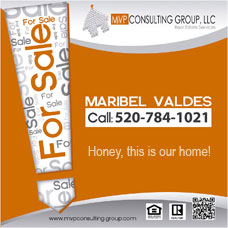 Selling real estate can be a demanding, time consuming, and, of course, a complicated process if handled alone. You may have a lot of questions before putting your property on the market. Certainly your main concern is how to get the best price for your home. Here at MVP Consulting Group, we have the experience to get the best price for your home while avoiding the most common mistakes. We will not overvalue the property, which can result in it sitting on the market for months without getting a contract to close. We will not take the opposite approach either, which is rushing to sell the property and getting an undervalue result.
We will provide a CMA (Comparative Market Analysis), and we give you the option of getting an appraisal and inspection of the property so we can uncover possible problems that could arise later and delay the sale, such as hazardous materials or construction flaws. Even in the best market conditions, selling a home can be overwhelming, so you will need to take steps to assure your home has enough "curb appeal" to sell. Here you will find a Sellesr Guide to help you prepare your home for sale.

Tip #1: Clean up oil spills
First impressions are always critical, and your driveway is one of the first things a buyer will see. Here's a quick tip that may be the solution for your cement driveway: Try Drano or any high? powered liquid drain cleaner and sweep those oil stains away! Please use caution and read all manufacturers' warnings before you begin this task.
Tip #2: Paint walls a neutral color
If your home is decorated in dark or unusual colors, you're going to scare off a lot of potential buyers. It will be worth your while to paint your walls a neutral color, such as off-white. If you're not up to painting your entire house, at least paint the areas that make the biggest impression, such as the entry/foyer, living room, dining room, kitchen, and master bedroom.
Tip #3: Make a checklist
Make a checklist to review any time a Realtor is bringing someone in to look at your home. Nothing fancy, just something to remind you to do all the little preparatory tricks we've listed.
Tip #4: Polish fixtures
Polish all fixtures, brass, chrome, glass, etc. with a high polish. This will add a sparkle to your home!
Tip #5: Clean or paint appliances
Appliances should be clean at all times. If your kitchen appliances have broken knobs, replace them. If your stove is green, your dishwasher is gold, and the trash compactor is black, have a professional come in and paint them one matching neutral color. This is much less expensive than buying all new appliances, and it will add dramatically to the "salability" of your kitchen!
Tip #6: Get out of the house
Always leave your house for a few minutes while the Realtor is showing it. Remember, buying a house is an emotional experience. The buyer will tend to feel awkward inspecting the house while you are there.
Tip #7: Bake cookies
Keep a package of ready-made cookie dough on hand. Pop a few cookies in the oven just when a hot prospect is expected to arrive to view the home. The smell of freshly baked cookies will conjure up a lot of great memories! Try to trigger emotions that will work toward the sale of your house.
Tip #8: Clean the carpets
When you are ready to list your home, it's always a good idea to have the carpets cleaned. A clean home will always sell faster, and you should accentuate the fact that you take care of your home. Leave a few pairs of shoes just inside the front door to imply that you are meticulous about the appearance of your house!
Tip #9: Organize the garage
Do you ever find that you're having trouble pulling your car into the garage because you have so much stored in there? Clean it up by storing everything you can at a helpful relative's home or a rented storage unit. This way, your garage area will appear larger, and when it comes time for you to move, you will be more organized.
Tip #10: Paint front door and entry way
A fresh coat of paint will always help sell the home faster, but if you can't afford it, try this: paint the front door and, if needed, the entry area around the front door. If you don't have any matching paint around to use, see if there is a plate fixture or something else you can remove. Take it to the paint store to obtain a paint color that matches.
Tip #11: Clean the pool
If you have a pool, it should look like you're just ready to throw a pool party, even if it's the dead of winter. You want to be sure to remind the buyer of how much fun a pool really is! This means a clean, uncovered pool with all of the furniture out and looking its best!