Relocating to Tucson, Arizona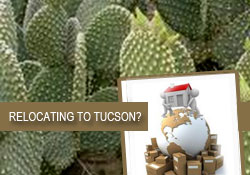 Every day since moving to Tucson from Miami, Florida, I feel the excitement of getting settled. It has been an adventure making friends, meeting the neighbors, and discovering new favorite restaurants, parks, places to shop and everything about my new hometown.
Besides the challenges of moving, relocation can present an opportunity to learn about a new city. Here are some tips for settling in:
Start exploring the city. Buy a map and drive around. You will soon find your favorite haunts!
Join a club. Here in Tucson there is such an abundance of choices that you're sure to find something you are drawn to. You can enjoy gyms, hiking, running, meditation groups, vegetarian groups, volunteering groups, etc.
Start something new. Do you like cooking? Take a cooking class. This is the time to renew yourself and start trying things you never have done.
Find a common interest support group. If you have kids, looks for family groups or religious organizations. Start looking for a church and find your community.
Consider your spouse's career. If your spouse's job was not portable, support his/her search for a new job or career or even the start-up of a new business.
Health and safety. Search for your new medical practitioners and familiarize yourself with safety precautions in your new desert environment.
Make sure to get your new driver license, and register your vehicles.
Finally, take one day at a time. Everything will be work out for the best!!!!