Health Care Resources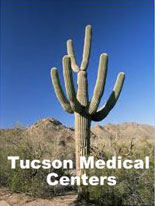 Tucson has approximately 2,000 hospital beds and more than 2,300 physicians, surgeons and osteopaths -- a pretty high ratio of medical professionals to population. Additional, there are more than 200 dental offices in Tucson.
Major Hospitals:
Alternative Healthcare at Tucson's Spas
There is no doubt that Tucson is a health-conscious city. With a history of a healing climate that has long attracted residents and visitors alike, Arizona and Tucson in particular are known as healthy places to live. Research from the University of Arizona shows that "arid desert climate, higher elevation and endless sunshine" is like a health sanitarium. So it's no surprise that Tucson is home to some of the most celebrated spas in the world, including Miraval Life in Balance, Canyon Ranch, Lakeside Spa at Ventana Lowes Canyon Resort & Spa, the Elizabeth Arden Red Door Spa at Westin la Paloma, The Hashani Spa at JW Marriot Star Pass, and the Sonoran Spa at Westward Look Resort.
Canyon Ranch
Miraval Life in Balance
Ventana Canyon Resort
Westin LaPaloma
Starr Pass Resort and Spa
Ritz Carlton