Central Tucson Neighborhoods

As in any other city, you can wake up and have it all!! Central Tucson has many thing to offer -- restaurants, bars, museums, historic neighborhoods, theaters, traditional fiestas, shops and much more. Central Tucson is vibrant and full of color, with unique southwest styles in all their splendor.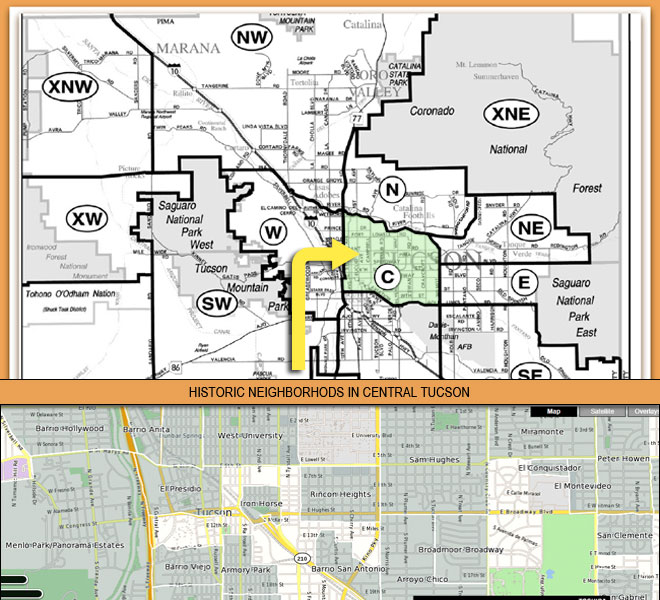 Take a look at some of these incomparable historic neighborhoods.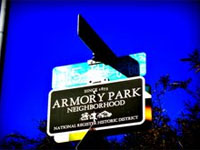 Armory Park Neighborhood: This historic residential neighborhood is south and east of the central business section of Tucson, formerly the Military Plaza where the Armory was located prior to its relocation to Ft. Lowell in 1873. With its close proximity to the railroad, rapid growth in the area occurred following the arrival of the Southern Pacific in 1880, offering prominent railroad men and their families a convenient place to live. By 1980, materials that were previously unavailable, in short supply or expensive began arriving by rail in abundance, allowing residents to express new tastes like the styles in the eastern estates: Victorian, Queen Anne and Greek Revival. Some houses are open for the annual Armory Park Tour. Search for Homes in Armory Park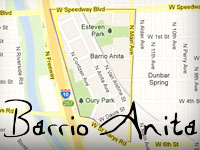 Barrio Anita Neighborhood: Barrio Anita is located northwest of downtown Tucson, within walking distance. The neighborhood is bounded on the north by W. Speedway Blvd., on the east by the right-of-way of the Union Pacific Railroad's main line and N. Granada Ave., on the south by W. St. Mary's Rd., and on the west by the Interstate 10 frontage road. Barrio Anita today consists of most of the original McKinley Park plat, plus Herrera-Quiroz Park. First platted in 1903, over 90 percent of this historic Hispanic barrio had been built by 1920, with the remainder built prior to World War II. Early neighborhood dwellings were built in the Sonoran tradition of adobe with flat roofs, later dotted with Queen Anne and American Territorial styles at the end of the 19th century. The barrio also contained numerous Chinese grocery stores; only the Anita Street Market, known for its tortillas and burritos, continues today. Search for Homes in Barrio Anita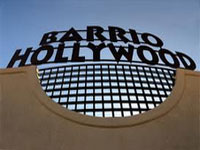 Barrio Hollywood Neighborhood: Barrio Hollywood - "Where Everyone's a Star". One of Tucson's oldest neighborhoods, Barrio Hollywood features a rich history and culture with family restaurants that Tucson has known and loved for years. Search for Homes in Barrio Hollywood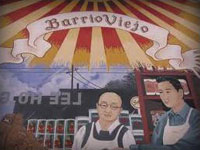 Barrio Viejo Neighborhood: Tucson's second oldest historic neighborhood and the most picturesque. It still has more territorial adobes than any other Tucson district. The architecture is predominantly Sonoran Traditional, where zero setbacks are common, creating long, continuous streetscapes of houses, offices, and shops. South Convent Avenue has become the center of historic rehabilitation and infill, most of it residential. El Tiradito, or the Wishing Shrine, on South Main Avenue remains a major attraction along with the Cushing Street Bar and Restaurant. Nearby you will find the Barrio Libre, El Hoyo, El Membrillo, Carrillo Gardens and Elysian Grove. I just love the Barrio Viejo. It's similar to the old towns where my parents grew up in Colombia, South America. Search for Homes in Barrio Viejo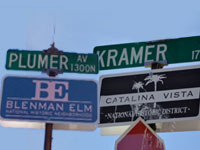 Blenman Elm & Catalina Vista: One of the 17 historic neighborhoods mentioned in Tucson AZ Beautiful and Traditional, located in the heart of Tucson between Speedway and Grant, and Campbell and Country Club. You will find unique homes ranging from Spanish Colonial Revival, to Ranch style homes and contemporary Old Pueblo Revival. Home of the famous Arizona Inn, which has been a model of western elegance since 1930, offering a serene setting and exceptional service. It retains its original warmth, privacy, comfort and charm while gaining all the modern day resort amenities a Tucson guest might desire. Search for Homes in Blenman-Elm and Catalina Vista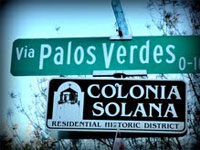 Colonia Solana: Located in the central part of Tucson, Arizona, the Colonia Solana Residential Historic District (1928-1941) is made up of 111 distinctive single family residences which are excellent examples of Period Revival and Contemporary styles within a unique and outstanding subdivision plan. The subdivision is clearly defined by rectilinear boundary avenues which contain the gently arcing small-scale subdivision streets. Native desert plant materials are used in an unusual, naturalistic fashion in specific areas to unify the district and provide an open desert atmosphere within the city. The community plan, the landscape architecture, and the eligible residential properties are significantly intact and display a high degree of integrity. Additionally, the condition of the properties is good and careful maintenance over the years has helped preserve them. This is my second favorite neighborhood; I don't get tired of driving around it!! Search for Homes in Colonia Solana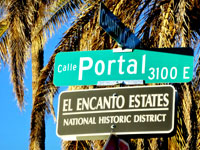 El Encanto Estates: One of the most beautiful neighborhoods in Tucson, and the most expensive per sqft. In El Encanto Estates, the street pattern is a formal, symmetrical design in the Neoclasical tradition with equally formal landscaped lots, large lawns and nonnative and native vegetation. Colonial Revival, Spanish Colonial, Mission, and Pueblo touches enhance the architectural styles of its homes. Love it! Stunning Homes!!! I rate this neighborhood as 5 stars. Search for Homes in El Encanto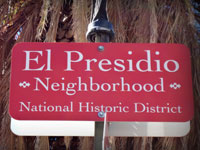 El Presidio: Tucson's oldest neighborhood, with most of the structures dating from 1860-1920. The most popular venue for walking tours because of the remarkable quality of the homes you will find -- Sonoran Row houses, Transformed Sonoran, Mission Revival, Bungalows, American Territorial and Spanish Colonial. Search for Homes in El Presidio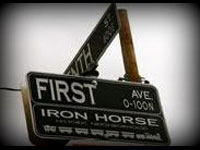 Iron Horse Neighborhood: In 1879 the Southern Pacific Railroad took land along the tracks for right-of-way and sold the excess for development of rental properties. This was one of five neighborhoods that met the Southern Pacific criterion that employees must live one mile of the tracks in order to hear the whistle code calling them to work. Established from 1890 to 1908, the neighborhood presents a mix of building styles including Sonoran adobe, Territorial, Bunglaow and Queen Anne. 180 historic properties, including the Josias Joesler designed Don Martin Apartments and the Coronado Hotel add to the charm of this neighborhood, noted as the most walkable in Tucson thanks to bike and walking paths and its proximity to cafes, restaurants and shops. Search for Homes in the Iron Horse Neighborhood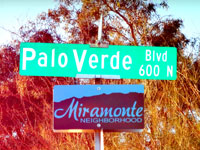 Miramonte Neighborhood: The Miramonte Neighborhood is bounded by Speedway Blvd. to the north, 5th St. to the south, Alvernon Way to the east, and Country Club Blvd. to the west. Search for Homes in the Miramonte Neighborhood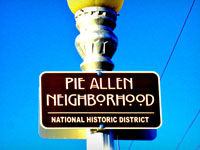 Pie Allen Neighborhood: The Pie Allen Neighborhood is named for homesteader and former mayor, John Brackett "Pie" Allen -- known for selling dried-apple pies to soldiers. This historic 23-block area counted railroad families as early tenants after the arrival of the Southern Pacific Railroad in 1880. By 1910, 60% of the neighborhood was made up of railroad families and employees, many of whom lived in some of the first rental properties in Tucson. Numerous housing styles, including Transformed-Sonoran, Territorial, Western Colonial, Queen Anne, Bungalow and Period Revivals are evident today. The neighborhood experienced a revival in the 1970's and is now a popular housing area for students and young professionals due to its proximity to the Fourth Avenue Shopping District and the nearby University of Arizona campus. Search for Homes in the Pie Allen Neighborhood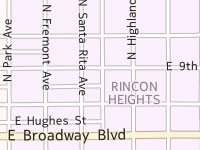 Rincon Heights Neighborhood: Developed as one of Tucson's first suburban neighborhoods, Rincon Heights exhibits an eclectic blend of 1920's-1940's Revival Styles and vernacular designs, including Bungalow, Spanish Revival and Ranch. A unique feature of this walkable neighborhood is High School Wash, a natural riparian area with WPA era curbs, sidewalks and culverts. In recent decades its housing types have been influenced by the growth of the University of Arizona directly to its north. Neighborhood planting and beautification projects continue to make this a popular housing area intent on keeping its historic appearance. Search for Homes in Rincon Heights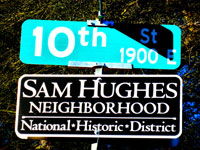 Sam Hughes Neighborhood: One of the oldest historic and traditional neighborhoods where homes were built between 1920 and 1950. Architectural style is best described as eclectic -- a combination of styles. Its individuality is evident in its various armadas, porches, walls and a profusion of landscape material, both exotic and native. Search for Homes in the Sam Hughes Neighborhood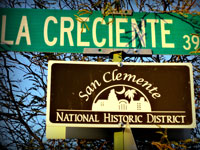 San Clement Neighborhood: This historic neighborhood is bounded by Broadway Boulevard on the north and Alvernon Way on the west. The neighborhood consists of 225 contributing properties on 92 acres ranging in style from Spanish Colonial Revival to Sonoran Ranch. Many of the homes in the area were built in the 1930s and 1940. Search for Homes in the San Clemente Neighborhood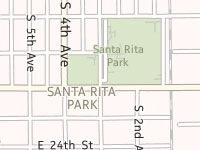 Santa Rita Park Neighborhood: The area known as "Santa Rita Park Neighborhood" was historically divided by 22nd Street and developed in two phases. Although laid out 30 years apart, the architectural character of the area is consistent. The neighborhood is characterized by small bungalows, early twentieth century revivals, and post war ranch houses. The physical and social center of the neighborhood was historically South Park, or today Santa Rita Park. This is one of the oldest parks in Tucson. Borton Elementary School is also located here. The school has an educational emphasis on literature, fine arts, integrated curriculum and computer assisted instruction. Search for Homes in the Santa Rita Park Neighborhood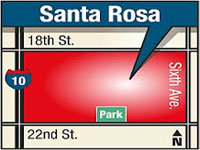 Santa Rosa neighborhood: Barrio Santa Rosa in downtown Tucson lies directly south of the Barrio Viejo National Historic District. Part of the original urban core of the city, its history and buildings are tied to Tucson's most indigenous architecture, the Sonoran tradition, specifically the Sonoran Row house, built of adobe with f situated on the street. The arrival of the railroad meant building materials from the East arrived, spurring the architectural use of pitched metal roofs seen in the later adobe Bungalow and Mission Revival styles. In the mid-50's ranch style housing was built by younger families moving to the area. The neighborhood is also home to Santa Rosa Park and an elementary school, Drachman Montessori Magnet. Search for Homes in Barrio Santa Rosa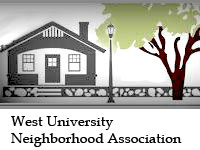 West University Neighborhood: West University was the first Tucson suburb north of the Southwestern Pacific railroad and was settled between 1890 and 1930. The neighborhood includes more than 700 buildings in a great variety of architectural styles from Transitional to Art Deco with about half being bungalows. In 1980, West University Neighborhood was listed on the National Register of Historic Places and became the largest historic district in Arizona. Bordered by the University of Arizona on the east, and located on both sides of Fourth Avenue, this busy neighborhood is in easy walking distance of numerous shops and eateries. Search for Homes in the West University Neighborhood